What Video Game Did I Play Yesterday?
Kirby Super Star (Nintendo Switch Online)
March 18th, 2023
I wanted to post here earlier today, but Neocities was down! It ended up being no big deal at all. I used the last of a gift card I'd won at work to get a veggie salad from Chipotle, grumbled that it was snowing again, got my mail, and returned to a fully functioning Neocities! My mail was good today, though. Ihad an order from PlayAsia come in, including Ib, Dragon Quest X Offline, and a sticker of Ataru and Lum from Urusei Yatsura that will soon grace a cheap water bottle. I'm pretty excited to play Dragon Quest X Offline, but nervous that my Japanese level won't be high enough to really enjoy it. Even worse, I haven't decided what species my character will be yet. I've got this, though.
Last night, I only played a few minutes of video games, buried under several pounds of blankets because winter has returned to my area with a vengance. My choice was Kirby Super Star because it's a nice game and I like it. I was playing the Great Cave Offensive section, but got too tired after ten or so minutes, shut it off, and slept for nine hours solid. It wasn't very productive, but was probably good for me.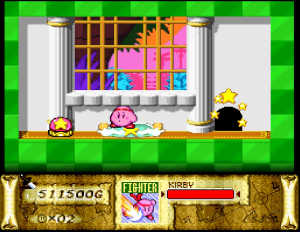 It'll be back above freezing tomorrow, so until then, I'm hoping to hide inside and maintain coziness.
Home >>
View Posts By Month >>
View the Game Index >>